Beds are an essential piece of furniture in every home, because people spend a third of their time sleeping during their life. Nowadays, sleepers have various kinds of beds for them to choose from, including wood beds, metal beds, bunk beds, loft beds, sleigh beds, futons and more. This article is going to introduce 6 Stylish and Affordable Metal Beds, and share some tips for buying a metal bed base.
Contents
1 What is Metal Bed Frame?
2 The History of Metal Bed
3
Metal Bed Dimension Guide
4
Pros VS Cons of Metal Bed Frame
5 How to Choose a Best Metal-framed Bed?
  5.1 Materials
  5.2 Weight-bearing Ability
  5.3 Types
  5.4 Finish
  5.5 Function
  5.6 Style
6
Top
6
Metal Frame Beds
 from Costoffs
7 Conclusion
What Is A Metal Bed Frame?
Metal bed frame is a bed base that was mainly constructed of metal materials, including steel, iron and brass. The function of metal bed frame is to support the box spring, mattress, bedding and sleepers. A metal bed will consist of metal side rails, metal supporting legs and metal slats, and some metal beds are designed with headboard or footboard to improve practicality and appearance. The headboard and footboard can be crafted of metal, wood and fabric or leather upholstery. The bed frame is available in many finishes, ranging from black, white, silver to other bright colors. More, a standard metal bed has some clearance from the ground, which brings spacious under-bed storage space for the bedroom.
The History of Metal Frame Bed
In ancient times, beds are very confined to wood ones, because of the low productivity and technical level, although only the emperor or high class could sleep on a raised wood bed. When time went to 17th century, iron beds started to appear in Italy, which were made to prevent infestation by bed bugs and moths.
 
From 1850 to World War I, iron beds gradually obtain worldwide popularity and they are mainly handmade in many small foundries. The basic process includes hand pouring, polishing casting and hand applying finishes. Normally, a foundry employed very few people and sometimes only be able to produce a couple of beds. Notably, there emerged a large number of metal beds with original designs at that time, which still nourishes today's bed design. After the First World War, the mass production of iron beds became popular and gradually dominated the market thanks to the Industrial Revolution.
 
With hundreds of years of development, metal bed frames are available in a diversity of designs, styles and finishes. And metal platform bed has been an important niche in the contemporary bed market. People love it for its affordable price as well as unique style.
Metal Bed Dimension Guide
Metal bed frames are produced in most sizes you could find in the market, from twin size to king size. While twin, full and queen size metal bed bases are most common. Apart from twin and twin XL size beds, other sized metal beds are usually reinforced with central rail and extra supporting legs to improve the weight bearing capacity. Metal bed frame size and dimension chart as shown below.
Pros VS Cons of Metal Bed Frame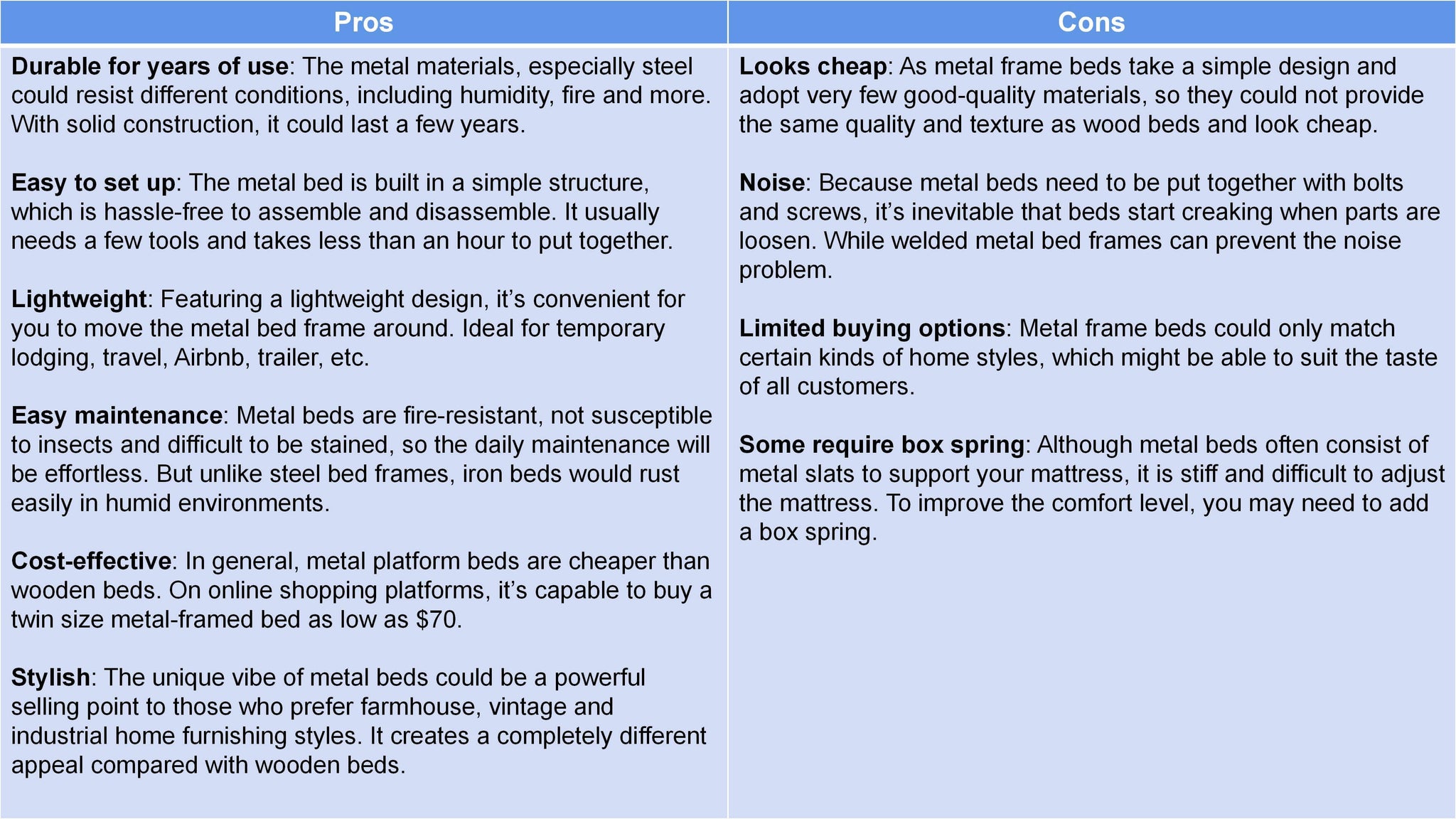 How To Choose the Best Metal-framed Bed?
Materials
Steel, iron and brass are 3 most common materials for making metal bed frames. Steel bed is best in its sturdiness and weight-bearing capacity. Compared with iron beds, steel bed frames are more heavy-duty and durable for daily use. Thus steel beds are gaining more popularity in recent years. An iron bed frame is sturdy, scratch-resistant and it's cheaper than steel and brass beds. The biggest drawback of an iron bed is it prone to rust, especially in humid rooms. 
Brass beds first appeared in the 19th century and became a representative of vintage design at present. Brass is a soft material that is perfect to make antique headboards with beautiful, elaborate decoration. Most brass beds take a yellow-gold, polished finish, offering a retro and luxurious look. People who love antique things may choose a brass bed. 
However, it's not as sturdy as steel or iron ones, which is easy to break and has a low load bearing capacity. To overcome the shortcoming of brass beds, You can purchase an iron brass mixed bed frame to achieve style and quality at the same time.
Weight-bearing ability
Although the metal bed base seems to be sturdy and has a large weight bearing capacity, it's necessary to know about the weight limitation before buying. 
A bed frame should be able to hold you, your partner, and your mattress weight combined and have some margin just in case. For single sleepers, the recommended bearing limit is 300lb. The bed needs to have around 600lb loading bearing capacity to accommodate two average people in the same metal bed.
Types
Manufacturers supply quite a number of metal platform beds for shoppers to choose from. The simplest base will include a metal frame with or without slats, and several supporting legs, which provides basic support for your mattress and plenty of under-bed storage. 
Moreover, there will be a kind of metal bed base that features a metal/wood/upholstery headboard & footboard, which could better protect the mattress from sliding and make you more comfortable when sleeping on. More, the decoration on the headboard and footboard are varied, which allows you to find a suitable one to fit your home style. Metal beds with wood or upholstered headboard will be more expensive than an all-metal bed frame. If you want a metal bed in high-class or look luxurious, you probably choose a wood and metal bed frame or an upholstered metal bed frame. 
A canopy metal bed frame looks very different from other kinds of metal beds. It's more feminine and takes a stylish romantic vibe, which attracts many women sleepers. With the canopy design, you can hang curtains or other ornamentation to create an elegant and unique living space. When dropping the canopy with sheer curtains, you will have a private and mosquito-free sleeping space. 
Other types include metal daybeds, metal loft beds, metal wall beds, metal adjustable beds and more for different scenario and needs.
Finish
The color of bedroom furniture will reflect your taste and mood, and at the same time, it will affect you. For example, if your bedroom has a dark gray color scheme, you may feel upset or depressed when staying inside for a long while. 
Metal bed frames come with many different colored finishes. Black, white, brown, grey and silver colored metal platform beds are most fashionable to metal bed shoppers. If you want to change the vibe or uplift your bedroom, you may select a bright color as the finish, such as gold, blue, orange, red, etc. 
The metal itself has 2 main finishes, the matte one and polished one. Matte finish is used more for black, gray and other neutral colors, while the polished finish is used more for white or brass hues.
Whatever finish you choose, please make sure it could match or make a contrast with the color of your headboard, and the color palette of the whole bed keeps harmony with the rest of your bedroom furniture.
Function
Functional furniture has been loved by more home furniture buyers, and bed manufactures have tried to provide options for individual customer needs. If you own a small bedroom, you may choose a high-profile metal bed foundation, which allows you to store bulky stuff under the bed. 
If you want to use the bed occasionally, for example in the guestroom or office. You may choose a foldable metal bed that can be stored in the cabinet when not in use. If you have a higher budget, you may choose a metal wall bed with extra storage shelves, which better utilizes your space. 
Some types of metal beds are adjustable in base height or headboard height, which is designed to suit the habits of different sleepers or match mattresses of different thicknesses.   
Style
Metal platform beds can be very modern and contemporary, and on the contrary vintage and stylish. The key point is that the bed you pick should match your home style. If you prefer a farmhouse or vintage bedroom style, you may choose a full-metal bed with curved silhouettes, and the head and foot showcase delicate patterns or decorations that inspired by traditional design. For example, the details like ball finals, scrollwork, canopy top and more. 
If you are a fan of modern or contemporary bedrooms, you may choose a metal bed with clean lines and a simple design. A contemporary metal bed always adopts a fabric or leather upholstered headboard and footboard, which will easily fit into a modern bedroom.
To build a sleek industrial or rustic bedroom, a matte black iron bed or a wood & metal bed is an ideal choice, which echos and enhances the important elements of industrial and rustic style.
This basic metal bed frame from Costoffs sports a sleek minimalist design. The headboard and footboard take a spindle design, adding beautiful decorative details to the frame.
It boasts a full-metal construction and powder coating, which provides a reliable and durable foundation for your mattress. The slatted design saves you money on buying an extra boxing spring.
11.2 inches of clearance under the bed base brings additional storage room. Comes in twin, full, queen sizes with a weight bearing capacity from 300-600lb. This bed foundation currently is available in 3 colors: black, white and silver.
Why
'
 ll love it
Sleek and minimalist vibe
Ideal for young adult's room, dormitory, hospital, Airbnb, etc  
This vintage-styled platform bed features curved lines and a tubular metal frame, bringing a romantic and inviting feeling to your space. The head and foot end showcase exquisite castings decorations for an elegant and opulent look. 
This vintage bed features premium iron materials and a high headboard, providing a sturdy and safe space for sleeping and lounging. Moreover, the high foot board prevents bedding from falling onto the floor while you sleep.
This robust bed base has 12.5 inches of bottom storage space for storing boxes, suitcases and more. Comes in twin, full, queen sizes with a weight bearing capacity between 300-600lb. This bed foundation currently is available in 3 colors: black, white and silver.
Why
'
 ll love it
Romantic and luxurious vibe   
High headboard and footboard with exquisite casting decoration   
Ample bottom storage space   
Great for all kinds of bedrooms and apartments
If you don't like a full-metal bed, Costoffs also supply metal and wood beds at an affordable price. This part will introduce two wood and metal beds, and they are slightly different in the design of headboard & footboard.
The full/queen size metal and wood bed base is crafted of an iron frame and wooden panel head and foot end, which is capable of holding up to 529lb. The wooden headboard provides sleepers with a more comfortable sitting place and could kindly protect your head. A spacious room under the bed helps you enlarge the limited storage space of your bedroom. 
The combination of black metal and rustic brown wooden panel evokes a rustic/industrial flavor, which could blend in with most home decors. This bed frame will perfectly fit the bedroom, guest room, apartment and more.
Why' ll love it
Rustic/industrial vibe

Wooden headboard or footboard with wood grain pattern

Ample bottom storage space

Available in full and queen sizes
No.5 Costoffs Modern Industrial Bed
If you prefer a metal platform bed that could easily blend into your modern or contemporary bedroom, our modern industrial bed frame deserves a try. The warm mahogany-colored finish against black metal gives this bed a rustic, rich look. 
This bed frame includes strong side&center rails and sturdy supporting legs for excellent load-bearing capacity. 12 built-in metal slats between two sides provide you with reliable support and a comfortable sleeping experience.
Compared with other beds, this rustic bed frame has a higher headboard for better protecting your head and bringing you a cozy sitting place. Also, the rectangular supporting legs improve stability and bring a stylish modern charm. 
Why' ll love it   
Rustic style combined with contemporary silhouette   
Mahogany-colored wooden headboard & footboard   
Ample bottom storage space   
No.6 Costoffs Upholstered Metal Bed
To provide you with superior comfort, we launched the upholstered metal bed series. This platform perfectly combines the softness of the linen surface with the coolness of the metal slats, creating a sleek but elegant tone. The button-tufted design adds beautiful details that will blend in well with contemporary, industrial, rustic and other home decors.
Crafted with a solid iron frame and well-stuffed upholstery in linen finish, this platform is built for stability and durability. The skin-friendly linen finish and thick foam padding make you comfortable when leaning your head against the headboard. Both full and queen sizes can bear up to 529lb. 
Why' ll love it   
Upholstered headboard with button tufting   
Ample bottom storage space   
Available in full and queen sizes
Conclusion
Hope this buying guide will be helpful to you. After getting the wanted metal platform bed, you should learn some tips for maintenance. With proper maintenance, your metal frame bed could serve you for a longer time. For metal frames and wooden headboard & footboard, wipe spills or dust with a soft, dry cloth. As for fabric upholstered headboard, spot clean with a cleaning brush and liquid soap. Hardware may loosen when time passed, so you need to check periodically to make sure all connections are tight.