Dining rooms are essential for modern life, because we love healthy, delicious food and value family gathering time. To build a perfect dining space, people tend to think more when purchasing a dining chair. Because a suitable dining chair not only increases the comfort level when sitting for each meal, but helps to elevate your dining area. So how to pick the best dining chair? Let's start reading!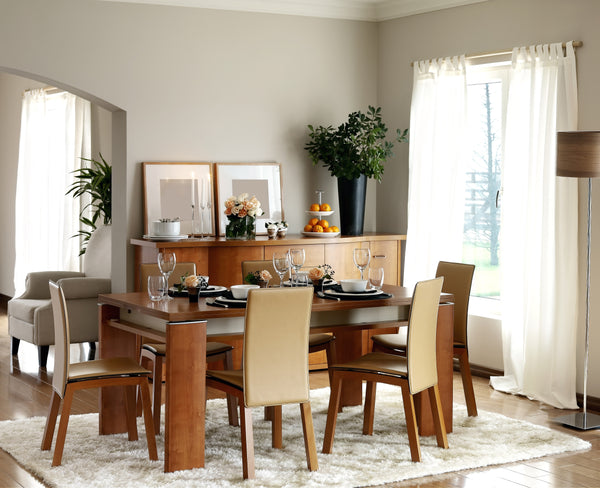 What is a dining chair?
Simply to say, a dining chair is a specific dining room future that you sit on during meal time. It always has four legs, a backrest, and some will have a comfortable armrest.
But do you know? Only royalty and noble could dine in a formal dining room centuries ago. At that time, ordinary people just sit on the bench, stool or ground to eat.
While as the market economy developed, the wage of workers has increased a lot. The middle class began to turn their attention to furnishing the dining room. From an upholstered dining chair, sideboard to delicate decoration, housewives try their best to beautify their dining rooms in an affordable way.
With the increasing interest in the dining room, a lot of classic chairs start to appear which still attracts many people today. For example, the Windsor chair was born in 18 century and was first built in England, which features natural wooded seats attached with thin and turned spindles. The seat legs are straight and the recliner is slightly reclined.
The shaker chairs are invented by the Shakers in 19 century. There are two representative designs, the ladder-back chair with unique ball-and-docket feet and the rocking chair.
When the time comes to 20 century, using new materials, such as plastic to produce dining chair was beginning to emerge when mass production became mature. As the cost of making a chair decreased, more and more family can afford their dream dining chairs. More, the gradually increasing buying desire boost the further development of dining chair.
Nowadays, people can buy their favorite dining chairs from various channels, whether from online or offline stores. Also, there are a variety of types of chairs at different prices for you to choose from.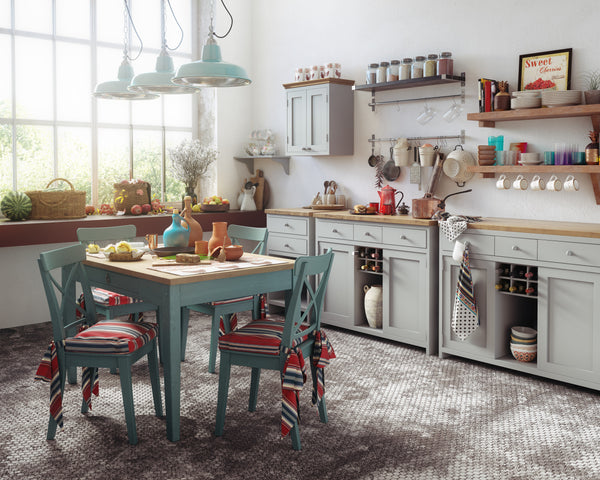 What's the size of a dining chair?
When purchasing a dining chair, you need to know different dimensions, including the complete dimension of your chair, the dimension of the matched dining table, and how much room you have for the dining area. To build a perfect dining space, you should know more detailed dimensions.
Seat Height: A proper seat height should allow you to sit comfortably behind your dining table. How to achieve it? Firstly, when you sit down, your feet can touch the floor firmly; Secondly, your forearms are at the same height and parallel to the table, with your elbows ensuring an open 90 - 110 degrees open angle.
If you have a standard 30-inch high dining table, the seat height from the floor should be measured as 18 inches, which leaves 12-inch clearance between the table top and the seat of your dining chair.   
Seat Width: Based on the online furniture platforms, we find that most kitchen&dining chairs are measured between 16 inches to 20 inches in width. If you want a more comfortable sitting experience when dining, you probably choose a big accent chair as your dining chair.
Many of us need more than one seat at each side of the table, so leaving proper room between one chair to another chair is essential for an uninterrupted dinner gathering. Usually, the space between each chair is 6 inches. If the length of the long side of the table is limited, you may choose armless dining chairs instead of armchairs. Or you can put the armchair at the short side of your dining table.  
Why Dining Chair is Important?
According to the survey, a majority of Americans cooking and dining at home, and during the pandemic, more people are becoming interested in cooking at home. For most people, eat-at-home means spending less money, eating healthier food and gaining much joy and fun. 
After preparing the food attentively, it's natural to sit in the dining chair to enjoy it on your dining table. Compared with dining on the sofa, eating with a formal dining room set is undoubtedly more comfortable, and creates a warm occasion for family members to chat, joke and play games. 
Apart from allowing you to eat in a comfortable way, a stylish dining table&chair set could be a focal point in your home, and be an attraction for your friends to visit. The farmhouse style, rustic style, mid-century modern style and Scandinavian style dining set are most popular to customers and these styles are perfect to show your unique taste. 
A dining chair can be used in any place that needs a seat. For example, it can be used as a side chair in the living room, a home office chair in your study room, an accent chair in a corner of your home. Nowadays, the boundary between different types of chairs is always blurred, so you may use some chairs in different situations for much fun and changes. 
However, some people will say they are lacking space for a big dining table set. Don't worry, more and more companies are producing foldable, space-saving sets for those who live in small apartments and more.
What makes a dining chair comfortable?
Everyone's ideal dining chair is different, but the requirements for comfort are the same for everyone. Imagine you enter a restaurant and sit on an uncomfortable chair, I guess your eating mood would be negatively affected by this. So what kinds of dining room chairs are more comfortable than others? We will discuss about the question from the following aspects.
Materials
Most common materials to make a dining chair are: fabric, leather, wood and metal. For most people, wood, metal and plastic dining chairs are less comfortable than fabric and leather ones due to the hard surface. The hard seat will make your buttock feel painful after hours of eating, and your back won't get stiff after a long conversation, which is not inviting for someone who wants to recline. 
Fabric dining chairs are comfortable for the skin-friendly, breathable and soft features, which is suitable for different aged people to sit and stays at the same comfort level in any season. Real leather or faux leather dining chairs not only have a luxurious look, but is durable for long-term use. It also has a smooth touch when putting hands on. In the market, the fabric and leather kitchen chairs are always featured upholstered seats and even backrests and armrests, which aim to provide extra comfort to their customers. 
In short, if you appreciate the design of wood, metal or plastic chairs, but want to sit more comfortably when eating, you can mix different kinds chairs in your dining area, which can also meet the needs of different family members. 
Upholstered Seat
An upholstered dining chair is designed both for elegant appearance and ultimate comfort. Fabric and leather chairs are more comfortable than other chairs in large part because they always have cushioned seats and even backrests. The upholstered chair could be a good option if your friends come to visit regularly or you prefer long dinners. 
What fabrics are best for an upholstered dining chair? You may choose the most suitable one from three aspects. Firstly, durability is the factor that most of us would consider, which is especially important for families with kids or pets. Among various materials, synthetic fabrics like polyester are most durable and easy to maintain. 
Secondly, you should select a material that is perfectly blended with your dining room decor style. For example, buyers who own a farmhouse-style room may choose a linen or cotton dining chair, while those with a rustic style dining room probably buy a leather dining chair. 
Lastly, the color of the fabric is also an important factor, which should match/make a contrast with the rest of your dining room furniture. Neutral colors and warm colors are safer choices for the selection of color.
Backrest Design
The backrest of dining room chairs is always ignored by most people. A wrong backrest could result in a bad sitting posture, unpleasant dining experience, even back pains. So how to select a comfortable backrest?The key points are: (1) Appropriate backrest height, (2) Lumbar support and (3) Slightly tilt angle. 
Different people may prefer different height backrests, a low backrest can just support your lumbar area; a medium height backrest is able to cover your shoulder; and a high-back dining chair gives full body support including head and neck. You can try these three leveled height chairs in the offline stores to get the most suitable one. 
But if you plan to sit for a long duration, it's recommended to select a chair with lumbar support. Usually, the lumbar is 7-9 inch above the seat, so the height of your future dining chairs should measure higher than 9 inches if you prefer good lumbar support.    
A survey found a large number of modern dining chairs have a tilted backrest with an angle of about 5°-8°. A slight tilt backrest allows and invites you to recline on, which is perfect for people who want to have a relaxed posture during eating. The study shows a 15-degree inclined backrest is favored by most people, because it gives less pressure to the spine than sitting straightly. When picking a dining chair, you probably could sit on the chair to try whether the angle is suitable for you.
How much should you spend on the dining room chair?
After searching various dining chairs on Amazon, it's interesting to find that the cost of the dining chair is closely related to the using of materials.
Among metal, plastic, fabric and leather these materials, the metal and plastic dining chairs are obviously cheaper than other types. You can probably take a metal chair with the price as low as $30, and a plastic mid-century modern style chair as $25.
As for wood dining chairs, a chair that is completely made of solid wood, such as rubber wood, pine wood, acacia wood and walnut wood is more expensive than those made of manufactured wood. About $60-$110, you can purchase a beautiful solid wood chair that meets your aesthetic needs. While an engineered wood dining chair can be priced as low as $50.
Fabric and leather dining chairs always feature padded seats, which have higher prices than others. The fabric upholstered dining chairs are divided into 2 types: one is with wooden frames and the other is of metal frames. In comparison, the price of a fabric dining chair with a wooden frame ($60-$120) is slightly higher than the one with a metal frame ($40-$50).
When talking about faux leather dining chairs (most leather dining chairs are made from faux leather on Amazon), a majority of faux leather dining chairs adopt wooden frame. And the price of an upholstered faux leather dining chair with a wooden frame is ranged from $50 to $150. The big difference in price may result in the difference in faux leather quality.
8 Cheap (but looks expensive) Dining Chairs from Costoffs
Product Name

Material

Color

Dimensions

Costoffs 4PCS Metal Dining Chairs

Iron,PU,Plywood,Foam

Black

17.5x21x33 inches

Costoffs Dining Chairs with Beech Wood Legs, Set of 4

 

PP,PU,Beech Wood, Sponge

White

19.5x20.5x32 inches

Costoffs Padded Kitchen Chairs, Set of 2

 

PVC,Iron,Foam,Plywood

Black

21x21.7x30 inches

Costoffs PU Leather Dining Chairs, Set of 2

PU,Sponge,Electroplated iron,Plywood

Black

16.5x21x40.7 inches

Costoffs Wingback Chair

PU,Foam, Metal,Plywood

Brown

28.7x31.5x38.6 inches

Costoffs Fabric Accent Chair

Linen fabric,Foam, Metal,Plywood

Gray

25x27x33 inches

Costoffs Velvet Dining Chairs, Set of 2

Velvet fabric,Plywood, Sponge,Metal

Pink

20x21x31.5 inches

Costoffs Tufted Arm Chairs, Set of 2

Velvet fabric,Foam, Plywood,Iron

Gray

22.5x23.5x34 inches
#1 Costoffs 4PCS Metal Dining Chairs

These metal chairs are designed for a sleek look. The seats are metal with soft cushions covered by durable faux leather. The quality materials and sturdy structure make them accompany you for a long time. Full black color and rivet-side decoration, this set of metal dining chairs are perfect for farmhouse, industrial, rustic and modern style homes. Sold in a set of 4 pieces with good value, come and take them home!
#2 Costoffs Dining Chairs with Beech Wood Legs, Set of 4
This set of modern style dining chairs takes a strong mid-century modern accent. Built of high-quality plastic, soft foam padded cushion and beech wood legs for high-level comfort and strong support. Featuring a curved backrest in a white finish and flared natural wood dowel legs, these chairs bring you a comfortable sitting experience during each meal, as well as a modern and fresh vibe to your space. With the lightweight design, you can easily move them around as needed.
#3 Costoffs Padded Kitchen Chairs, Set of 2
Inspired by the traditional parson dining chair, this pair of faux leather dining chairs is made for comfort and elegance. The dining chair is constructed with a solid engineered wood frame and set upon solid wood legs for sturdiness and stability. Durable PVC leather seats filled with extra high-density foam and decorated with button tufting on the back. With the decent seat area and high backrest, you can easily achieve a relaxed feeling after a long dinner. Clean lines and elegant color perfectly fit your unique space and atmosphere. 
#4 Costoffs PU Leather Dining Chairs, Set of 2
The simple contemporary design can easily match any type of dining table. Both the seat and backrest are padded with high-density foam, which provides enough support for the whole body. A U-shaped metal base keeps the set stable as well as brings visual beauty to your dining area. Stylish and unique, this piece is perfect for contemporary style dining rooms.
#5 Costoffs Wingback Chair
If you are looking for a dining chair to uplift your space, this wingback dining chair is a good option. The retro brown faux leather finish and big biscuit tufting will catch your eyes at the first sight. Built for luxury, made for comfort. The chair is built of PU leather padded seat, sturdy metal frame and large seat area for the ultimate sitting experience. Curved high back gives you strong support, so you won't feel tired after hours of sitting. Using this piece to brighten your dining area and enjoy everyday meal cozily.
#6 Costoffs Linen Fabric Accent Chair
Looking for an elegant but comfortable dining chair? Getting some inspiration from traditional decor, this modern dining chair combines clean lines with a curved back. The skin-friendly fabric cover absorbs your sweat, which won't make you uncomfortable even in the hot summer. The manufactured wood frame combined with metal legs makes this chair sturdy enough for long-term use. The cushioned seat, back and armrest give you utmost comfort at any posture. The pleated pattern added an elegant touch.
#7 Costoffs Velvet Dining Chairs, Set of 2
Add a touch of glam to your space with this velvet armless chair. You will need a pair of chic dining chairs to make your places special and outstanding. These 2 chairs are made of velvet fabric, which give you a plush sitting experience and smooth touches. Vivid chic color and curved shape make your dining room/kitchen modern and cute. Sold in 2 chairs together with good value!
#8 Costoffs Tufted Arm Chairs, Set of 2
With the neutral color and modern design, this pair of armchairs could easily blend with most home styles. They are made of soft velvet, durable foam, and strong metal. These kitchen chairs have comfortable seats and sturdy supports. The diamond decoration on the back adds luxurious and chic details to the whole piece, and the arc armrests fit your arms perfectly.
Conclusion
Hope this buying guide will be helpful to you. After getting the wanted dining chairs, you should learn some tips for maintenance. With proper maintenance, your dining chairs could serve you for a longer time. For metal or wooden surfaces, wipe spills or dust with a soft, dry cloth. As for fabric upholstery, spot clean with a cleaning brush and liquid soap. Lastly, if your faux leather dining chair is spilled or stained, you should use a cloth dampened with warm water to blot the stain.