No matter how small our house is, there should be always some space for working or reading. If you have a dedicated study or office in your house, that would be great. If not, it will be a good idea to build office space or a reading corner at home yourselves. With more and more people working from home today, a scientific customized working space will help you work more efficiently.
How to achieve this? Here I write a brief essay with advice on how to create your own work area at home. Hope you like it and welcome to share your ideas with me.
#Position
Reading or working requires a comfortable and proper place. Where should we set up a workplace or reading corner at home? The following is some advice for reference.
1. Beside the Window in the Bedroom
It is good to build a work area or a reading corner beside the bedroom window. You can make full use of natural light in the daytime, and use a lamp in the evening. Plus, the bedroom is relatively quiet and the noise of the TV in the living room won't bother you.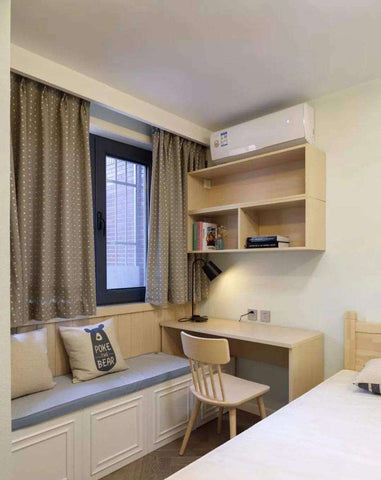 2. On the Balcony
Working can be relaxing and cozy. If you are a "enjoy type", it is a great choice to build your workspace on the balcony. The light curtains fluttering in the breeze, you sit on the balcony and read your favorite book with a cup of tea, what a wonderful moment! In such a cozy atmosphere, working won't be boring anymore.
 3.In the Corner of the Living Room
If there is ample space in your living room, then you can pick a corner to build your own workspace. But, you'd better stay away from the TV, or back against the sofa for they are temptations to the people who concentrate on working or studying.
#Lighting
Lighting is also important to a study area at home, except for the location. Usually, we use natural light and lighting equipment. The former one is natural, energy-saving, and comfortable; in the contrast, the light equipment can fill the gap of natural light, especially at night.
It is suggested that the light source be concentrated on the place you sit without too much coverage. Table lamps and floor lamps can meet this need. As for yellow light or white light, it is up to you. If you build this workplace for drawing or painting, you might need a professional lamp which has good color rendering and high light efficiency.
#Home Office Furniture
Now we come to the core of the home working space, a right seat, and a matching desk. It requires comfort and ergonomics when we sit to work or study. The seat should be neither too soft nor too hard. A slouched position might make you distracted or easy to fall asleep, which is unhelpful for working or studying. The wrong height of the desk may cause you tired and stiff after sitting for a long time. Therefore, a pair of proper chair and desk is crucial to you.
1. Desk
Generally you can find L-shaped desks or normal rectangle desks on the market, which are the commonest types. Choose a single desk to put beside the window, or an L-shape desk to put in a corner. If you want a desk for putting your monitor or laptop, then a professional computer desk is great. If you are an engineer or an artist, I will recommend a drawing/drafting table. The size of the desk generally varies from L40inch, L47inch, L55inch to L63inch. As for detailed specs, you need to consider the area of the workspace and take a measure before you order.
About functions, if you just need a clean place to write or read, a simple single desk will be fine. If you require more performance and function, choosing a professional desk or computer desk is a great idea. Also, there are many professional desks for particular professionals, like drafting tables, dresser desks, children study tables, etc. If you are the type of person who prefers standing up while working, a standing desk converter or a height-adjustable table is what you need. All in all, you might choose a suitable table according to your/user's needs.
2. Office/Gaming Chair
After choosing a suitable desk, a comfortable office chair is also important, and they should match perfectly so that they can serve you well. Normally most people choose mesh office chairs for working because this kind of office chair has much ergonomics. Some people would like accent chairs given that they want relaxing casual furniture at home. If you intend to use this space for playing games or you are a professional e-sports player, a gaming chair will do the job.
Some chairs have a supportive backrest, some have comfortable armrests, and some are height-adjustable. Office chairs are vital since they need to support you for working or studying all day. A good office chair can make you work easily and conveniently. With multi-directional casters, you can move smoothly. It requires comfort, ergonomics, durability, and appearance. It would be better, not like picking a desk, if you can go to a physical store and try the chair you want, to pick an ideal cozy one.
3.Books/Files Organization
An organized and tidy workspace makes your mind clear and job efficient. Do not place books, magazines, newspapers, files randomly. You need a bookshelf or storage rack for them. According to the books you intend to organize, you can build a large bookshelf or buy a small rack or a small side table.
4. Other Office Furniture as You Need
If you plan to put in more office furniture or equipment, like a whiteboard, or a movable TV stand, remember to leave adequate space for these pieces of equipment. Almost whiteboards, TV stands are adjustable, so you do not need to worry about the practicality, even for children's use. About small office supplies, such as a laptop, lamp, etc., just choose and arrange them according to your personal habits.
#Conclusion
An ideal working area at home basically requires a comfortable chair, a matching desk, combining a practical bookshelf. Another point is that always keep your place clean and tidy. Believe me, organized stuff make your mind clear and have a mood to work. Enjoy a cup of nice coffee, and working will be much easier in this wonderful working space.
After the thoughts and advice above, I hope you are ready and primed for action. Although this home working space is small, I believe it will bring you endless possibilities and changes. Wish you every success in your work!