It is important to consider the weather when you plan parties, yard sales, barbecues, or other outdoor activities, isn't it? Don't let wind, rain, snow, and scorching sun spoil good time. A good outdoor canopy can help. No matter used in the backyard or garden, it can protect you from the sun and rain and offer comfortable shades for leisure time. Then how to choose a perfect outdoor canopy? Hope you may find your answers in this blog post.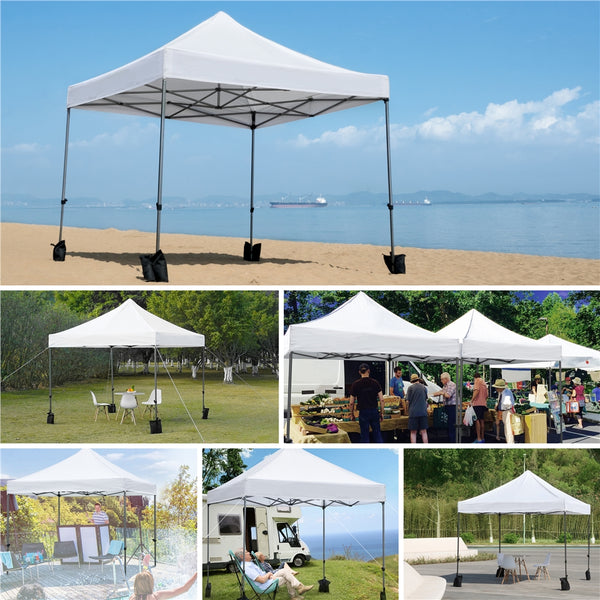 #Is this outdoor canopy easy to be set up/take down?
The canopy which you are going to buy shall be assembled and disassembled easily. Users can set it up and take it down without too much effort. Generally, just two persons will be enough to handle a 10*10ft pop-up canopy. Most canopies come with wheeled carrying bags for convenient movement and transport.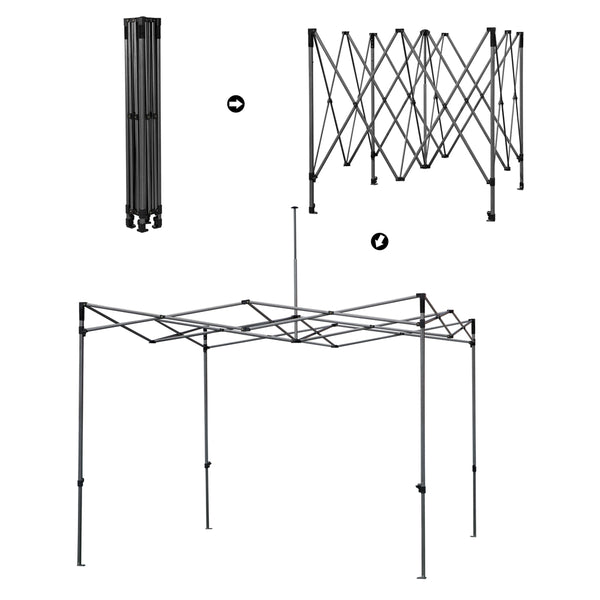 #The materials of the outdoor canopy do matter.
What is the best material for a canopy? Good pop-up canopies can withstand bad weather conditions. The materials of the canopies mainly include two parts, top covering and frame. You need to consider durability, water resistance, UV protection, and even fire resistance to make sure this canopy you are going to buy is qualified.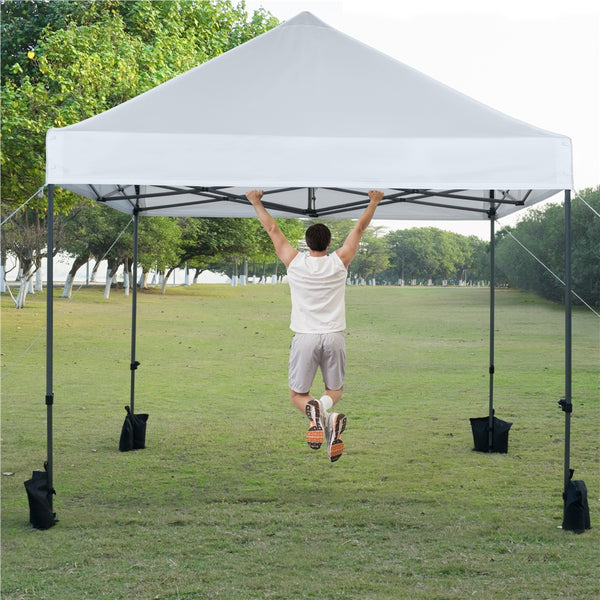 In general, most canopy tops are made of polyester, polyethylene, and vinyl. Polyester, such as oxford cloth, is the most commonly used material of instant pop-up outdoor canopies because of its durability and water resistance. Polyethylene has better water-proof property. Vinyl tops have vinyl coating to make the canopy UV resistant, waterproof, and flame retarded.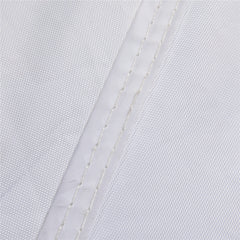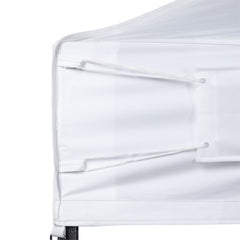 The whole frame of the tent canopy is important because it provides the core power and support. The most common materials of the frame are aluminum, fiberglass, and steel. Aluminum is cheaper, rust-resistant, lightweight but less durable and sturdy. Fiberglass is stronger, good corrosion resistance, but tends to be more expensive and heavier to carry. And steel is heavy-duty with strong capacity. It can bear bad gale weather, but over time it is likely to get rust. If you choose a steel frame, you may need to give it more care and maintenance to avoid rust.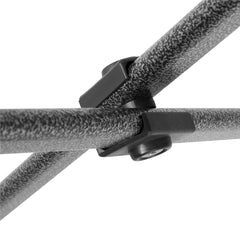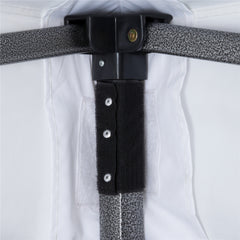 #Weight of the Outdoor Canopy
The weight of a canopy has a lot to do with its size and materials, especially the materials of the frame. The aluminum frame is light while fiberglass and steel are heavier. The aluminum frame enhances portability, but it cannot withstand strong wind. The lightweight of the outdoor canopy achieves easy movement and transport. The heavy-duty frame ensures the tent with canopy can withstand strong bad conditions.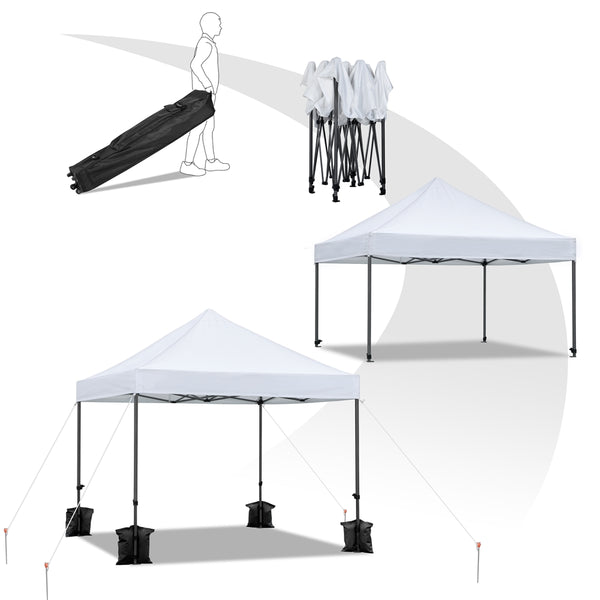 #Style and Color
The styles of the canopy can be decided according to the styles of the occasions. Is it for a wedding, camping, friends gathering, or marketing? Different events feature different styles and atmospheres. There are various types in the market for you to choose from. Some canopies are instant pop-up, and some have sidewalls like a room. According to the occasions and your liking to choose a suitable one.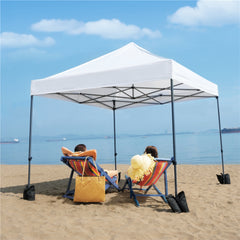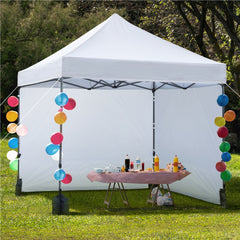 Color also matters. Dark colors absorb heat on hot days while light colors will reflect the heat. Dark-colored canopies absorb heat but can easily hide dirt and stains. Light-colored canopy tops, to some degree, will make you cool and comfortable, like yellow, orange, blue, inspiring and alive.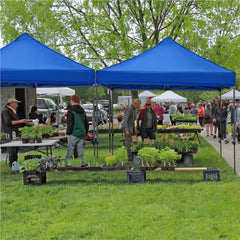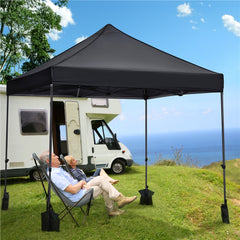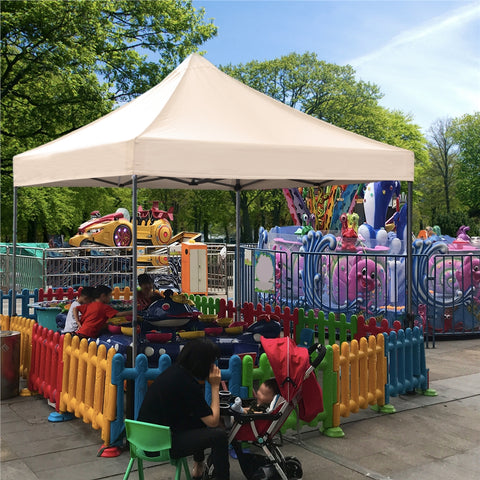 #What size do you need?
As for the size of the tent, it depends on what you are doing with it. To give you a better idea of how big the tent is and how many tables and chairs can be covered, here's a chart excerpted and adapted from American Rental Association (https://www.aapartyrental.com/) for your reference.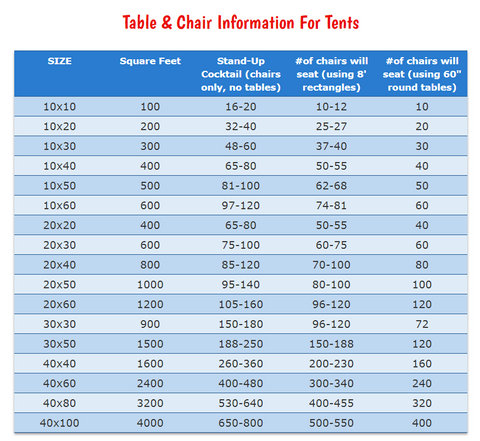 #Good accessories of the outdoor canopy improve the UX.
A set of fully-equipped outdoor tent will save you much time and trouble. It usually includes sandbags, ground stakes, ropes, a carrying bag, etc. These accessories make the canopy more stable and strong against bad weather conditions. A well-equipped outdoor canopy will be a good choice.
I hope this blog post is helpful before you make your final decision to buy a suitable outdoor canopy. And thanks for your time; welcome to share ideas and comment below.