Disc golf was regarded as an independent sport or game when ''Steady'' Ed Headrick created the first Disc Pole Hole™ catching device. The first disc golf target has 10 chains and hangs in a parabolic shape over an upward-opening basket, which looks very similar to the disc golf target you buy online now.
After 40 years of development, the durability, style, portability of disc golf baskets have made great progress, which allows a large number of disc golf players, fans to find their favorite targets conveniently. So, this article is going to give you a ready-to-use guide on choosing the best disc golf target.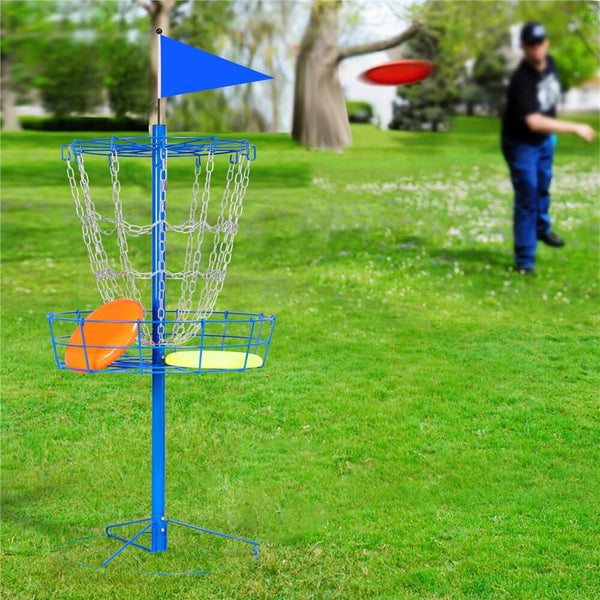 Materials
Disc golf baskets can be produced from a variety of materials, including metal, wood, plastic, fabric and more. Metal baskets are most popular among other types of disc golf baskets for their sturdiness and durability. This kind of baskets could withstand different weather conditions, which also meets the requirements of professional competitions and championships. If you want a standard/course-like target or search one that could last longer, most metal disc golf basket targets could meet your needs.
While a large group of people like a lighter, portable basket, which allows them to carry when they go out for courses or travel. The portable disc golf target always features a fabric/mesh/plastic basket tray and multi-leg metal base, which is convenient for storage and transport. In comparison, the mesh target catches much better than other typed portable baskets. If you need a basket for indoor/outdoor putting practice or weekend leisure activities, the portable practice basket could be an ideal option.
Homemade or DIY disc golf baskets are attractive to craft lovers and those who don't want to spend much money on buying a target. A wood flying disc golf basket is stylish, solid and releases fresh wooden smelling. People prefer using wood material to make a basket, because the raw materials are easily available and they are convenient to make different shapes. And wood practice baskets won't rust like metal ones, which could prolong their service time.
Different materials have their advantages as well as shortcomings, so you can choose the most suitable one depending on your needs.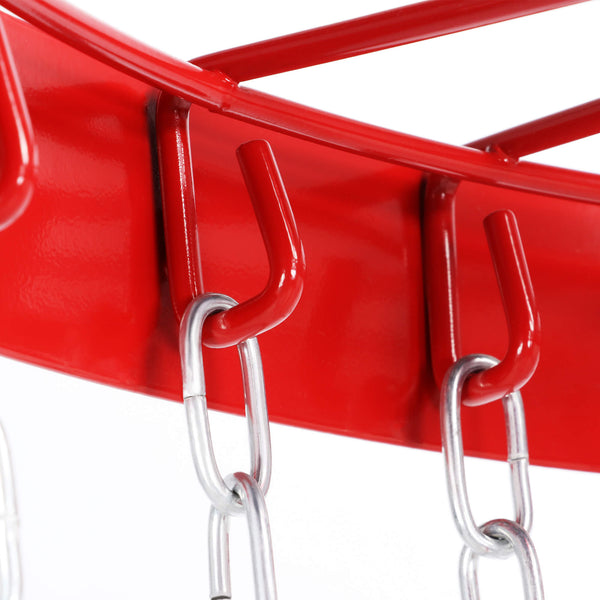 Dimensions and Number of Chains
Whether buying or DIY a disc golf basket, it's recommended to choose the one that meets the PDGA rules, helping you to improve disc sport skills in an efficient way.
· Height of Basket
According to PDGA rules, the minimum overall height of the whole basket should be 52 inches (from the ground to the top of the basket). Also, the distance from the ground to the bottom of the basket is 25.7 inches. A higher or lower basket may make the game simpler or harder.
· Width of Basket
The widths of the upper basket and lower basket are two must-see dimensions in choosing a proper disc golf target. It is stated that the diameter of the upper rim should be 21.3 inches. The lower basket tray is undoubtedly wider, and the official diameter is 25.7 inches. A wider basket means you could throw the discs more comfortably.
· Weight of Basket
Proper weight of disc basket determines the stability when players throwing discs into the target. However, PDGA still gives a reference weight range, which is around 18 to 25 pounds. If you want to make a basket by yourself, it'll be more reliable to do a weight-bearing test, which ensures that the basket won't collapse when using.
· Chain Size
The chain is an essential part of every disc golf basket, because it helps you to better catch the disc and prevent the disc from landing in the basket too quickly. The minimum length of the chain has been regulated as 9 inches. However, if you want to make a homemade target, you can adjust the length according to your demands. A longer chain makes the catching easier. 
· Number of Chains
The purpose of the chains is to catch the discs and prevent them from going through the target or falling off. So technically if a target contains more chains, the better performance it can have in catching discs. Normally, there are 3 types of baskets (divided by the number of chains):
12-chain basket
, 18-chain basket and
24-chain basket
.
As PDGA required, the minimum chain number of the target should be 12 outer chains, and the minimum number of inner or side to side chains is set at 6. While A 24-chain disc golf basket allows the chains to be arranged in single, 2- or even 3-row configuration to catch fast spin putts as firm as possible.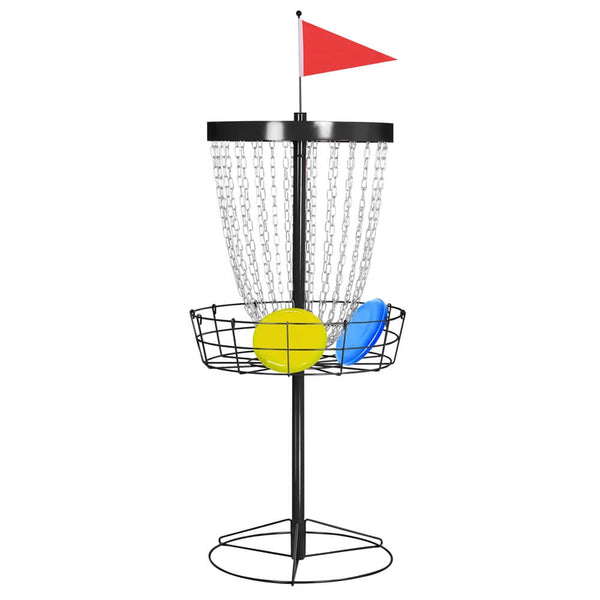 Accessories
There are a variety of disc golf accessories for different occasions and situations. For example, the disc basket light could be installed atop the basket and project light down into the chains, which allows you to play disc golf at or near nighttime. If you often go out for training or competition, you may buy a special disc golf bag to carry the must-have essentials, including discs, baskets, putters, water bottles and more. 
Q&A
Q: What is the standard PDGA disc golf basket?
A: A standard disc golf basket will fulfill these requirements:
·  The rim of the basket should be21 1/3 inches wide.
·  The minimum chain length is 9 inches. And the minimum number of chains around the basket is 12.
·  The lower basket should be at least 6.7 inches high and 25.7 inches wide.
·  The basket needs to be 52 inches above the ground, and the measurement from the floor to the lower basket should be 25.7 inches.
Q: How to assembly the portable disc golf basket?
A: Firstly, assembly the bottom pole to the base with bolts, then install the basket to the top of the bottom pole with bolts. Nest, insert the top pole to the top of the bottom pole and tighten with bolts. Lastly, install the target top to the top pole with bolts. 
Q: Is it fine to leave the basket outside around the year?
A: Some baskets would feature a rustproof finish which allows you to leave it outside without worrying about corrosion. While if your basket is made of wood or lacking a rust-resistant coating, indoor storage is recommended.  
Q: Should I buy a basket target when first playing disc golf?
A: If possible, you may try a few courses first. Then if confirm that you are really interested in this sport, you can buy a basket for better practice. 
Q: Can I play disc golf at night?
A: Of course you can, just make sure you have a good lighting facility, which provides you steady brightness and night visibility. Night golf could be as fun as daytime golf.